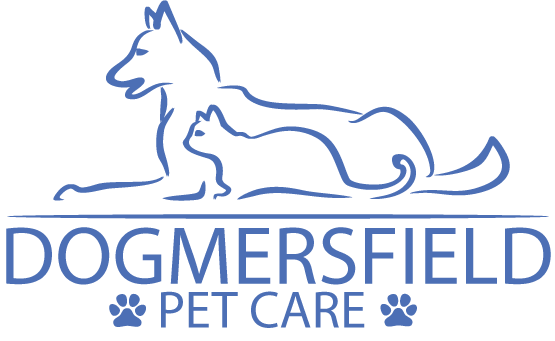 ---
About Me
Originally from a professional background, having been a teacher for twenty years I decided I wanted a change to work with animals having grown up with dogs all my life. I am now very pleased to say eight years later it's the best thing I ever did.
Dog walking is my main business and all my dogs get on well together, having spent time organising the groups so they are 'all well matched' on a walk. Luckily, I'm spoilt for choice for walks here and I am licensed to walk on MOD land so all of them are adventurous, stimulating and interesting and I try to walk in different locations as often as possible so the dogs don't get bored. I walk dogs off lead (with owners' consent) to maximise enjoyment, exercise and socialisation. I am also happy to discuss special requirements and incorporate them into your four legged friends routine!
I am an experienced and licensed home boarder, rated 5 stars by Hart Council (licence no. 19/0007/A_ANIM). Your dog will be welcomed into the comfort of my quiet child free home. Your dog will have company for most of his or her stay and as part of this service will be walked at least twice a day. Because I board only small numbers of dogs and have a lot of repeat custom, I book up very quickly especially in the School holidays.
As an extra service I offer pet care for small animals. I know from my own experience that for some animals it is better for them to stay in their own home while you are away. With this in mind, I can care for your pets and help keep your home safe while you are away for any length of time. I am fully insured through Cliverton, DBS checked and an animal first aider so you can put your trust in me. All licensing and insurance documents are available to view on request.
Please look at my website and I hope you will contact me. I always 'meet and greet' before taking on business.
Testimonials
"What can I say about Jane and her dog walking business, she is brilliant! Jorg took to her like a duck takes to water. I was so pleased to find some one local that has great time keeping, is very professional and a warm and caring heart for animals. Jorg is a beagle and we all know what type of dogs they can be; stubborn and hard work regards recall but he responds well to Jane and she is in command of him. Since he was taken out I have never seen a dog go off with someone so quickly. We now say to him Auntie Jane is coming to take you out and he is so excited he knows what is coming!
Stephanie Hislop
Testimonials
"Our dog Dexter has been cared for by Jane for nearly four years, since he was a puppy, and he adores her. She is always happy to 'pop' in and feed him when we are running late, she takes him on fabulous walks and is very patient with his stick obsession. Even collecting sticks on the way to the pond to make sure he has enough when its time for a swim.
As a very spoiled member of the family and having had a very bad experience with a dog walker when Dexter was a puppy we were understandably nervous leaving him in someones care, now we simply tell Dexter 'is that Jane?' and he runs to the front door wagging his tail. I am totally confident in recommending Jane to walk and care for any loved pet."
Jane Owles
Testimonials
"My cockapoo has been walked & cared for by Jane at Dogmersfield Pet Care for a while now.
He gets plenty of variety all through the week with different places to walk & for socialisation with other dogs.
From my experience Dogmersfield Pet Care offer a fantastic service and superb value for money & most importantly my dog is very happy."
Adam Neale
Testimonials
"Jane has been walking my two border collies Cassie and Millie for a few months now and I'm really pleased with the service. I run a business and can't walk them as often as I'd like and they need.
They are young, energetic dogs and I can tell that Jane takes them on a good walk because they're suitably tired out (for a while!) when they return. She is a good time keeper and can be contacted in short notice.
I would be pleased to recommend Dogmersfield Pet Care to anyone, it's clear Jane loves animals and my two adore her!"
Caroline Shand