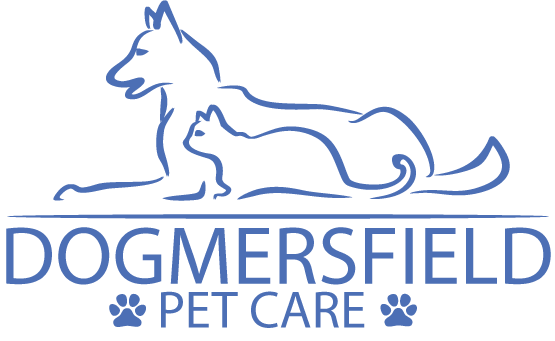 ---
Services
Dogmersfield Pet Care Ltd offers a variety of services for all sorts of pets. I can also handle home care while you are away on business or holiday, so you can have peace of mind. Choose the service you want and please let me know if you have any specific requirements.
---
Dog Walking
Exercise is vital to the health and happiness of your dog and dog walking is my main business. I walk dogs off lead for maximum enjoyment. All my dogs have great recall and have been walking together for years, I spend time getting the 'right mix' in each group. I walk your dog in a small group to help socialisation, stimulation and increase interaction. Walks are in a variety of interesting locations- dogs rarely go to the same place twice in one week and I hold a MOD licence to walk on their land. Furthermore I transport all dogs separately and securely in the car.
Cost
From £12 for group walk per dog.
£7 for additional dog from same household.
Weekend and Bank Holidays are extra.
Each Dog Walk Includes:
Pick up and drop off including an hour walk.
Exercise, fun and play in a variety of safe and interesting areas.
Fresh water on return, treats if requested.
Re-enforcement of your basic training.
A towel dry and muddy paws cleaned!
---
Small Animal Pet Care
Cats are happiest in their own surrounding and removing them from their surroundings can cause stress which may cause the same for you. If you are away from home, I can look after your cat in the comfort of it's own home. I will also look after rabbits, hamsters, chickens or even rats and snakes! Dogmersfield Pet Care provides a daily feeding service to suit your needs. I will visit up to twice a day if required.
Cost
From £7.50 per visit depending on location.
Please ask about rates if outside local area.
Prices differ on Bank Holidays.
Each Day I Will:
Feed and water your animal and clean all bowls.
Empty cat litter tray daily and clean. Do similar for other small animals.
Groom, play and fuss over your cat.
Make you house look 'lived in'- open and close curtains, turn lights on and off.
Water plants and put bins out when required.
---
Home Boarding
I have been home boarding for over six years and hold a Hart Council licence. Dogs share my home along with my husband and our mature female Shih Tzu, Marley. It is a quiet, child free environment, with a secure garden. Dogs are walked twice a day and treated like my own family pet; they are rarely left on their own. Although licensed for four dogs I will generally only look after two or three dogs at a time and I am pleased to have lots of repeat customers.
Cost
From £27 per day. £50 for two dogs per day.
Prices differ on Bank Holidays- please enquire.
The Service Includes:
Feeding and lots of company- dogs are never left for long and a Pet Cam keeps an eye on them too.
Walking twice daily; at least 30 minutes early morning walk and approximately an hour later in the day.
Administer any medication.